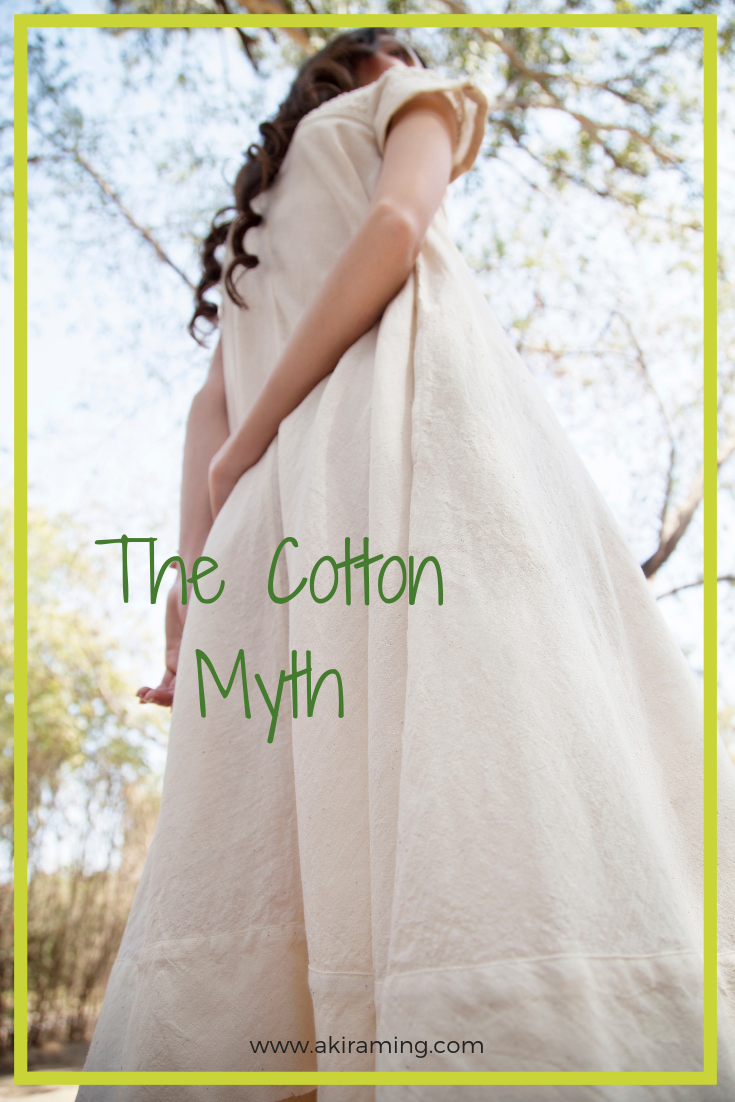 I recently met a lady at a function who caught my eye for her boho chic modern indigenous look, wearing a cotton dress, silver jewellery, black bindi, canvas jutis and carrying a canvas bag with multi coloured tassels. She struck me as quite charming and we got into a conversation about her style and fashion in general.
She told me she loves to live a sustainable lifestyle, buys only organic vegetables, does not buy leather and only wears cotton as that is the most eco friendly fabric. I asked her if her dress was organic cotton and she said no, it was regular cotton which is a natural fabric hence eco friendly.
I observed the fabric closely and could tell that it was mill made cotton cambric - most common quality made in most indian mills , which has a yarn count of 60's and therefore commonly known as 60's cambric.
I did not have the heart to break her disillusion and enlighten her but seeing how much she wanted to live sustainably I proceeded to tell her what I know and what I am happy to share here with you now…
Mill made cotton fabric is the most harmful fabric for the environment.
Cotton Production. Most of the cotton produced today is grown from GMO (genetically modified) seeds that affect the crop yield and have negative impacts on the environment. The conventional methods of farming mono crop makes the soil less absorbent and requires gallons of water to irrigate. Pesticides and insecticides are used extensively that are harmful for the farmers with long lasting health impacts.
Cotton mills. The processing mills where the yarn is spun or fabric is produced utilise huge amounts of energy resources and water resources and use chemicals for processing dyeing and printing and finishing the yardage. This leaves a massive carbon footprint.
While the cotton yarn is natural but the amount of chemicals it is fed during its entire life cycle renders it pretty toxic by the end of it.
Organic cotton. Switch to organic cottons. Certified GOTS organic cottons are produced with non GMO seeds and require 80% less water. Most importantly, no chemicals are used so it is toxin free.
Hand woven cottons. We are fortunate as Indians to have such amazing heritage of hand woven and hand spun textiles. I consider Khadi as our national treasure, and love using it in my collections. Malkha (malmal-khadi) is my staple fabric for most of my collections. I shall be dedicating an entire article on this beautiful quality soon. Hand woven and hand spun fabrics have a very low impact on the environment as they do not require high energy resources . Also, mostly vegetable dyes are used for dyeing and printing that doesn't include any chemicals. Khadi isn't certified organic. however, the manual processes in its entire lifecycle make it a low carbon impact fabric.
I hope this helps you make a more informed decision when choosing fabric for your next outfit!
Please subscribe to get regular updates and to avail 15% off on your first eco friendly purchase!